Speaking & Training Services
Keynotes
Private Consultations
1 Hour Presentations
3 Hour Workshops
See More Videos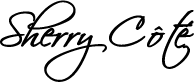 CUSTOMER RELATIONSHIP SPECIALIST
Speaker / Consultant / Facilitator
"Why customer's leave and how to get them to stay?" AND return, AND tell 2 friends AND so on. That is the most important question that a business can ask themselves! It will have the greatest impact on the success or demise of your business! Whatever you are selling, your customer has to believe they have made the right decision to do business with you, returns to do more business and shares his positive experience with everyone that will listen! From the first point of contact the customer has to be convinced you have what he needs and you have made it convenient for him to purchase it. What to do, where to start?
"There's never a crowd in the extra mile!" Meet Sherry Côté, as a customer relationship specialist and consultant, workshop leader and keynote speaker, Sherry works with companies who want to implement systems that will build strong and lasting relationships with their customers and employees. Her focus is on delivering exceptional customer service, wowing them at every turn and having them leave feeling their expectations were not only met, but exceeded! Sherry was nominated for the "Canadian Woman Entrepreneur of the Year" Award in the category of "Impact on the Local Economy" as President of her private business training institute in the lower mainland.
"Creating extraordinary systems for ordinary people to follow" Whether you retain Sherry for private consultations, customer relationship presentations or team workshops, you will leave with an action plan that can be implemented immediately. You will see the excitement of the participants in having learned just how simple going "above and beyond" is. You will also see an improved attitude ripple throughout the workplace. "Sherry has impressed us from the beginning with her high voltage energy, superb presentation, teaching and interpersonal skills and lively and engaging personality. Once you have had an opportunity to meet Sherry, we are certain you will be as impressed as we have with her abilities and achievements" . . . Vancouver Women's Information Network.
Read Testimonials
Highly acclaimed by both her former clients and the communities that she has worked in!
Who is Sherry?
Sherry has been assisting new and existing businesses get to the next level for 35 years!
Contact Now
Book an initial complimentary consultation to determine your best course of action!